Our Start
Mark Hildreth, owner of Hildreth Construction Services LLC, saw the pride his father put into his carpentry work since 1969 when he became a carpenter. In 1983, Mark's father took that same pride and passion he put into his work and started his own business, Hildreth Construction Services LLC. That same pride, passion, and determination to succeed is a big part of the business today, and these qualities are visible in the craftsmanship of the commercial environments we create.
Our Philosophy
While being team focused, we keep our clients' best interests in mind by controlling costs, meeting deadlines, and placing a strong emphasis on communication. We ensure top quality results at the completion of each project by implementing smart practices, working efficiently, and using only the best materials available. Each aspect of the construction process is done correctly by focusing on the small details. We take pride in delivering a finished product that will not only satisfy your needs, but will exceed your expectations.
Our Vision
Our vision for success is founded on a team first approach with our employees and customer relationships first in mind. We believe strong communication early on in the construction process is vital to forming lasting working relationships. We look forward to and appreciate any opportunity to work with you on current or future commercial construction projects in Des Moines, Iowa and surrounding areas. 
Experienced Project Management
As a general contractor, we oversee the construction of your project from start to finish. While supervising each step of the construction process, we pay extra close attention to the smallest details to ensure our high standard of quality. We are committed to consistently delivering value on each and every commercial project.
Specifications and details of recent construction projects: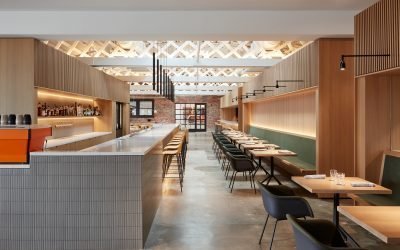 AIA Iowa 2022 Design Award Winner.  Removed many elements that kept the space dark, broken up and uninviting. Removed tint from...
read more